Free 3D Tank in either .x or B3D Model
Community Forums
/
Developer Stations
/
Free 3D Tank in either .x or B3D Model
| | |
| --- | --- |
| Hotshot2005 | (Posted 2011) [#1] |
I have check in TubroSquid but most of them are Max or lwo :(

Is there Free 3D Tank in either .x or B3D Model?

please let me know :)


What kind of tank?

Last edited 2011


| | |
| --- | --- |
| Hotshot2005 | (Posted 2011) [#3] |
Any 3D Tank will do as long as it is .x or B3D Model :)

Last edited 2011


I make one for you.
Screenshot follow.
where to send? ;-)

Last edited 2011


| | |
| --- | --- |
| Hotshot2005 | (Posted 2011) [#5] |
if you want a screenshot of it and you can upload on http://www.picturepush.com and you don't have register it as you click on is without account then upload the picture and post on here with the picture :)


I post here the screenshot of the model i made for you. Hope you like it ;-)

Last edited 2011


Here is the tank.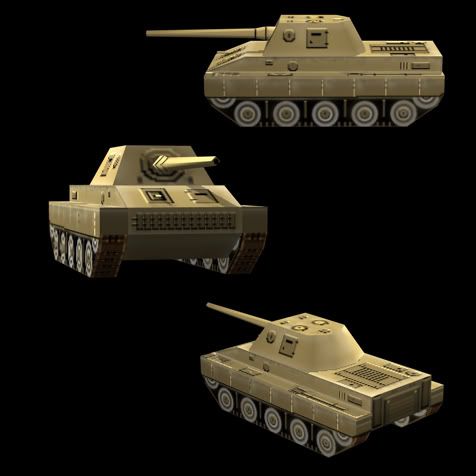 160 poly
texture size: 256 x 256 pixel

Download link: *removed* - model is now available at turbosquid.com

Have fun!

Last edited 2011


| | |
| --- | --- |
| Hotshot2005 | (Posted 2011) [#8] |
WOW very nice tank

Thanks

What Application did you made this?


Thx.

I made it from brain with Milkshape 3D and Paintshop for the texture.


| | |
| --- | --- |
| Hotshot2005 | (Posted 2011) [#10] |
Interesting....I try to learn Blender but it wasnt easy to do on 3D Tank.

So I guess Milkshape 3D is the easiest to do 3D Modelings then?


No, not really. You must spent a lot of time to learn modelling. I do this for years and have a focus on low poly game models.
The modeller is not important.


Milkshape is a polygon modeller (i prefer it for game modeling). It's maybe to difficult for you to start, but it gives you all what you need for making game models. There is a book? Hear it first.

I found wings3d very easy to start with. It's for free and realtiv easy to learn. http://www.wings3d.com

Try both :-)

Last edited 2011


| | |
| --- | --- |
| Steve Elliott | (Posted 2011) [#14] |

I have check in TubroSquid but most of them are Max or lwo :(





Cool. I have 1 of those. Ultimate Unwrap3D is your friend here.